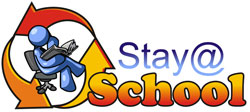 DISSEMINATION REPORT

Partners:
INFOREF

Name of the person involved in the event:
Christine CLOES

Date of the event:
26 March 2013 - 26 March 2013

Type of Dissemination event:
National Meeting

Description of Dissemination Event:
Meeting with the headmasters of the technical and vocational school "Centre Scolaire Sainte-Véronique et Marie-José" in order to inform them about the project and to invite them to participate in the next activities.

Target group:
Headmasters of technical and vocational school.

Number of people reached by event:
2

Held in:
Liège, Belgium

Outcomes and Results:
The school accepted to take part in the "School Safety Net" project because it is on the same topic and the "Stay@School" project was nearly achieved.

Supporting Documents: