This project has been funded with support from the European Commission. This material reflects the views only of the author, and the Commission cannot be held responsible for any use which may be made of the information contained therein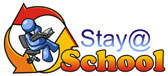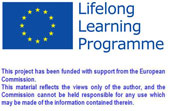 This section of the web site gives the access to the products developed by the teachers involved in the [email protected] project and are addressed to students in order to raise awareness on the issue of early school leaving
Campaign on preventing school dropout
The school campaign on
[email protected]
consists of two main components: one component is raising awareness about the issue in schools and in families. The other component is focused on activities and techniques which will hopefully reduce the number of students dropping school. The educational materials created provide an alternative way of reducing the number of students who drop out school. What is special about them is the fact that they were devised by students for students. The materials draw attention to the consequences of school abandonment. The message is very direct, clear andpowrful: 'Young people who do not manage to get a high school diploma face many more obstacles in life than people who graduate'. We advocate the use of such materials because they are convincing, accessible, easy to use and adapt to each school context.
Introducing students themselves in campaigns on reducing school dropouts can accelerate the efforts towards better school attendance. Students are more convincing because they come from the same school context, they have spent time together, they know each other, and they share a lot of things in common. The students involved in the campaign will speak to their peers about the benefits of education as well as listen to them in order to understand their problems and doubts. Trying to remove obstacles in a common effort will be rewarding for all participants.
The campaign spot is available on YouTube:
http://www.youtube.com/watch?v=cd88nN1wZGI
Download the
Guidelines in English
.
"THE LOST CASE" from a short story to a video clip